Skin Care Services
Relax and let your skin be tenderly treated to its needs. Erin will choose what is best for your skin condition and help you achieve lasting results.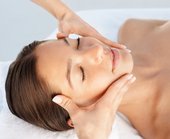 Youthful Facial $95
Youthful Facial & Sun Stressed Skin Treatment
Includes Image Treatment Peels.
These facials are specialized for those whose skin is losing collagen, increased hyper-pigmentation due to sun damage, and loss of elasticity due to the environment, hormones, sun and stress. With the performance ingredients and knowledge of the professional your skin will start regenerating and looking more vibrant and healthy.


Advanced Treatment Chemical Peels
Chemical Peels are designed to improve and smooth the texture of the skin by removing it's outer layer which starts the process of cellular activity and collagen Production chemical peels aid in the appearance of fine lines, crows feet, sunspots
and acne Scars.
Medicated Clearing Treatment. 60min $95
This treatment is the ultimate in acne management. It targets current blemishes while preventing future breakout activity.


On The Go Facial. 30min $ 45
If you are on the go all the time this facial is for you. We will have you in and out in a half hour, and we are sure your skin will thank you.

Back To Basics. 60min $ 100
Don't forget about the most neglected part of our bodies.... your back, a back facial includes the same steps as a essential facial and will be designed for the skin condition of the back.